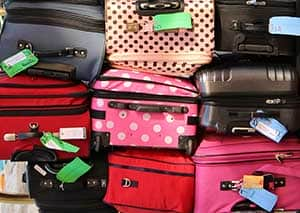 Mitchell's Moving Company's excessive baggage service makes perfect sense for anybody  in the UK looking to send personal effects and personal possessions back home or to a new address. By letting us send your excess baggage you will save a lot of money rather than paying the airlines excess baggage charges at airports and far more convenient.
We arrange to pick up, pack and deliver your excess baggage from your address in the UK or US and arrange for them to be delivered directly to the door in the destination country of your choice. The track and trace Air Express service means that we can always be sure where your possessions are no matter where they are within the world, right up until the point they get delivered to the address of your choice.
Alternatively if you have large quantity of personal effects that need to be packed and shipped home we can arrange for the items to be picked up from your address within the UK and sent by sea freight which is a more much cheaper option for large quantities or particularly large or awkward items such as vintage cars, car parts, bikes, furniture, or kitchen equipment, piano's etc.
Should your personal possessions need packing we can use our specialist packing techniques and materials to pack anything from cars to bikes to furniture and our wide range of packaging materials means no item is to awkward for us, even if we have to make a bespoke carton or crate.
Excess baggage or Personal effects is a term used to describe the items of personal property that you own and consign for shipment overseas. No other company in the UK offers the same breadth of services for shipping and relocations.
MMC offers a range of personalised excess baggage services for the packing and delivery of personal possessions and excess baggage to anywhere in the world designed to meet the needs of:
Tourists visiting the UK on holiday who have found themselves leaving with more than they came with, or perhaps are travelling home via another country and want to send excess baggage or personal effects on ahead of them.
University students from overseas who are studying in the UK and wish to send personal possessions or study materials back home.
People who are intending to travel abroad with sporting equipment such as Golf Clubs, Bikes, Skis, or Wind Surfers who prefer the convenience of sending their possessions on ahead of them.
Business people visiting the UK for trade shows who need to send product samples back to their home country.
Whether it is computers, books, sports equipment, clothes, and other indispensable items that will not fit in the overhead airline locker and take you over your baggage allowance- talk to MMC on how we can custom pack your personal effects and get them home safely.